Following on from my post from 2009, the situation is still the same – but different. Technology has moved on and back in March I was having a number of service issues together with discovering that, once again, I was being overcharged. The issue there was that I was on 20Mb Broadband which was not a service that is offered to new customers so it was not possible to find the correct price but my argument was that it certainly should not be a higher price than the current 30Mb service. Again, like the banks, a case of legacy customers being left behind and over charged. The solution to that was to change to the current Broadband L (30Mb) offering and with that came a spanking new Modem/Router which also fixed my service problems. Subsequently, since I am now at home for most of the time, I have upgraded the phone service as well.
So, having got the first uncomplicated bill in July – I have checked it.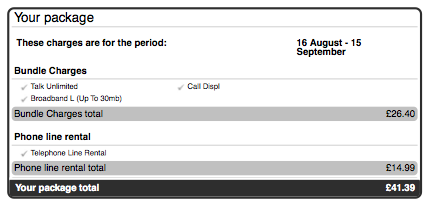 This shows a bundle price of £26.40 + the line rental to a total of £41.39.
Going to their web site, which is quite good once you figure out how to work it and convince it that you are not an existing customer (because that only gives you upgrades), I found the "Build your own bundle" page. Entering Broadband L, Phone XL + Caller Display gives me…

The grand total of £39.74 – an overcharge of £1.65.
Back on the phone (free), this time the girl I got was intelligent and, slowly working her through their own web site to get the page I was seeing, I convinced her and her supervisor that I was correct. They will credit the £1.65/month backdated to March. The explanation that it was a one off error not systematic is hard to challenge even if it is not plausible.
The moral—Check and Complain, but you do need to be sure of your facts.