December 1851 saw the birth of the fourth Edward Hain, followed shortly afterwards by the death of his great grandfather, also Edward, who had founded the fleet of ships that bore their name. In these early days the business was small, with never more than three vessels in service at any one time but by now they were trading further afield, and in 1862 their ship EMILY sailed from Wales on a voyage of 15 months visiting Canada and Brazil.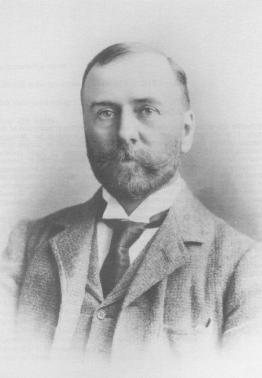 After an education in various private schools in St. Ives, including James Rowe's on Academy Steps, Edward Hain was sent to the local branch of Bolitho's Bank for a training in accountancy and book-keeping. Unlike his father and grandfather, he showed no interest in going to sea and it was recognised that his talents could best be employed in management. After two years at the bank, he moved on to a tea merchant's office in London to gain knowledge of current commercial practice. The combination of the bank training and the time spent in London was to have a profound influence on the development of the company. Upon his return to St. Ives in 1878 he presented his father with an ultimatum—either the company purchase steamships or he would resign.
Edward was convinced that greater profits were to be gained from steam and that the days of sail were numbered. Not the least of his father's worries was the cost but young Edward was confident that the money could be borrowed from Bolitho's Bank and it was eventually agreed to order one steamer if sufficient shareholders could be found who were willing to invest their money. The shareholding was taken up by members of the Bolitho and Hain families, plus a large number of small investors from St. Ives and neighbouring villages. There seemed to be no shortage of potential investors and an examination of early lists shows master mariners, farmers, mine agents, and even local shopkeepers. The commision was given to

Readhead's yard of South Shields, the first of 74 and the only yard used by Sir Edward.
By 1901 the fleet had increased spectacularly to 22 steamers and it was decided to amalgamate the single ship ventures into one limited liability company—The Hain Steamship Company Limited.
The steady development of his shipping business did little to hinder Edward's interest in politics. In 1883 he had been elected a member of the St. Ives Town Council, and the following year he was chosen as mayor. He undertook his duties conscientiously and was, as a result, re-elected to that office in 1885 and 1886. He was later elected for further terms in 1889, 1895 and 1899. He served as a councillor and alderman for 20 years, and was also a county councillor for Cornwall for 15 years. In 1885 he was placed on the Commission of Peace for St. Ives and in 1889 on the list of County Justices. With such a background it is hardly surprising that he decided to stand for Parliament, and in 1900 he was elected unopposed as member for the St. Ives constituency. The seat had become vacant following the retirement of Thomas Bedford Bolitho. Edward Hain held the seat as a Liberal-Unionist until 1906 when increasing business pressures forced his resignation. Public office still attracted him however and in 1912 he was appointed High Sheriff for Cornwall. His standing in shipping circles was, by now, considerable, and in 1910 he was elected president of the Chamber of Shipping. This was followed in 1912 by a knighthood for services to British shipping.
His fleet continued to expand at a rapid rate following the incorporation and by 1913 numbered 36 ships with five more on order all financed from revenue without any call on capital. The company entered the war in 1914 in a strong financial position, but unfortunately at the outbreak, two ships were berthed in German ports and another was trapped in the Black Sea. A further 18 vessels were lost by enemy action. A more serious blow for Edward struck when his only son, also Edward, was killed at Galipoli during the Dardanelles campaign. He had been serving as a captain with the Cornish Squadron of the Royal 1st Devon Yeomanry. Young Edward had been training in the family business for a number of years and his father never fully recovered from his loss. In June 1917, Sir Edward suffered a severe breakdown during a German air-raid on London, and returned to Cornwall to convalesce. On 20th September 1917 he died at his home Treloyhan, St. Ives, and the news stunned the shipping world. He is buried in the family plot at Barnoon Cemetery, St. Ives.
A few months after his passing, the line was sold to P & O for a consideral premium and continues as an identifiable division today.
Further history of the Hain Steamship Line can be found at

Board of Trade Acquaintances.