See also Monumental Inscriptions
Thanks to George and Sandra Pritchard for this transcript.
This is a transcript done by one person and will, inevitably contain errors. Researchers are always advised to consult the original source.
More information on the casualties can be found from the

Commonwealth War Graves Commission
1914–19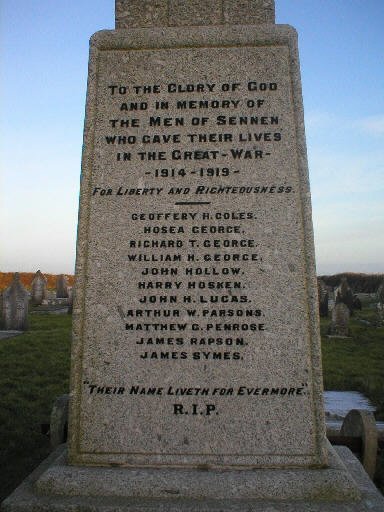 The names recorded here are Geoffrey H. Coles, Hosea George, Richard T. George, William H. George, John Hollow, Harry Hosken, John H[arry] Lucas, Arthur W. Parsons, Mathew G. Penrose, [William] James Rapson and James Symes.
Those that also served include
Affection, Albert
Avery, Fred H.V.
Avery, Harry G.
Bond, Stephen
Bond, Robert
Chappell, William J.
Chappel, Henry G.
Chappell, John F.
Ellis, John
Ellis, James
Ellis, Mathew G.
Farquarson, John
George, Alfred E.
George, Ernest
George, Albert
George, Robert
George, William J.
George, Nathaniel
George, Phillip
George Mathew T.
George, James
George, John R.
George, Fred
George, Arnold
George, Thomas
George, William
George, William
George, John
Hall, Richard
Hicks, William B.
Hicks, Percy B.
Hosken, Richard
Hosking, Pearce
Hosking, Norman
Hutchens, Andrew
Hutchens, William C.
James, Harry
Jewell, Charles
Mathews, Silas
Mathews, Seethorne R.
Mathews, William F.
Mitchell, John Henry
Nicholas, John T.
Nicholas, Mathew H.
Nicholas, Edward
Nicholas, Thomas
Nicholas, Herbert
Nicholas, Richard
Nicholas, John
Nicholas, Walter
Nicholas, James H.
Nicholas, Benjamin
Pender, Samuel L.
Pender, Thomas
Penrose, John
Penrose, Henry
Penrose, Reuben
Penrose, Richard
Penrose, Richard Jnr.
Penrose, William J.
Reece, John
Roberts, John
Roberts, James
Roberts, William
Semmens, William
Semmens, Joseph
Shannon, Sydney
Thomas, Benjamin
Tonkin, Harry
Trenary, Charles
Trenary, William
Trewern, Cecil
Trewhella, William
Trewhella, Samuel
Wallis, William T.
Williams, William
Williams, Thomas
1939–45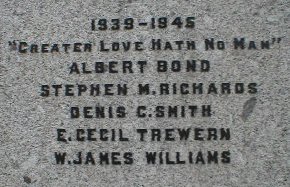 The names recorded here are Albert Bond, Stephen M. Richards, Denis C. Smith, E. Cecil Trewern and W. James Williams.
Those that also served include
Bond, John
Braunton, Charles E.
Chappel, Edwin
Chope, Mabel
Farquarson, Ronald
Farquarson, Lucy
George, Edmond
George, Albert
George, John
George, James
George, Richard
George, Alwin
Gage, Robert
Heath, Lorna
Hutchins, Doreen

James, Edith
Johnstone, Charles H.
Jackson, William T.
Larder, John
Mathews, William C.
Minifie, Florence V.
Nicholas, Ivy
Nicholas, Elsie
Nicholas, William H.
Nicholas, Alfred
Prigg, Harold W.
Peek, A. Dawn De L.
Richards,, Archie
Roberts, Herbert R.
Roberts, Brian

Roberts, Cecil
Roberts, William J.
Rodda, Francis
Rowe, Frederick J.R.
Rowe, Frederick E.
Shannon, Leonard C.
Trewern, Leslie
William, James E.
Williams, Edith
Williams, Edwin J.
Williams, Nancy
Williams, Ada
Whitley Leslie