---
I can help with all resources marked

, copyright permitting.
See also Chapels (other denominations) which includes details of where other records can be found and Sufferings of the Quakers.
For all Births, Marriages and Burials see CRO SF Index 223 (1609–1837) + Sup Index SF 224 (B/M/D. 1647–1805) + SF 84. Transcript of B/M/D. registers 1609–1843. Birth and Burial notes 1837–1904 [SF/85–96]
Marriages in West Cornwall 1839–1894 [SF/161], Burials in West Cornwall 1903–45 [SF/374–379].
The extracts below were posted on CORNISH-L on 1 Dec 2000 by George Prichard
Note that quaker records usually quote months numerically rather than by name. Month 1 is March, 10 is December.
Transcript (Cornwall Legacy 2001) for all Quaker records of Cornwall 1609–1837 (CDROM).
Marriages
Quaker weddings were exempt from the normal regulations and were permitted to be in their own meeting houses. The records are exceptionally good, providing much more infromation than other marriages. They were open to friends and relatives and all present were invited to sign as witnesses. This of course means that some of the names which appear in the record are non Quakers. All registers were handed in to the Registrar General in 1837 and are now in the PRO at Kew. The CRO holds a copy as detailed above.

Indexes to Quaker Marriages 1813–37 (CFHS 1998) for the whole of Cornwall with additional material from George and Sandra Pritchard.

1657: John Read of Sennen son of George & Ann Read to Margaret Penwarthen
      of Buryan.
1658: Tobias Read of Sennen son of George & Ann Read to Margaret Thomas
      of Market Jew (Marazion) dau of John & Francis Thomas.
29 Sep 1665: Jenken Vingoe to Mary Read of Sennen, Mary Dau. of George &
      Ann Read.
5 Dec 1672: Ann Read of Sennen dau. of George & Ann Read to Nicholas Wallish son of
      Digory Wallish.
1672: Stephen Read of Sennen son of George & Ann Read to Elizabeth Ellis
      dau. of John & Phillis [or Phillippa] Ellis of St. Just.
      Witnesses: Nicholas John, William Roberts, George Read, Jenken Vingoe,
      Charles Ellis, John Wallish, Sampson & Richard Daniel, John Mathew,
      William Lawry, Nicholas Wallish, Tobyas Read, Dorothy Ellis,
      Briget Ellis, Philip Ellis, Blanch Bosustow, Lowdy Ellis, Ann Reed. 
14 Dec 1674: William Lawry of St.Just and Jane Wallis dau of Thomas Wallis.
      Witnesses:- John Ellis, Nicholas Jose, Thomas Wallish, Nicholas Wallish,
      Richard Dennis,  Sampson Dennis, Tobias Reed, William Roberts,
      William Provis, John Mathew, Isaak Chappell, Thomas Richard, John Tonkin,
      Hugh Ladnor, Jenkin Vingoe, John Edwards, Thomas Bennett, Phillip Ellis,
      Marye Ellis, Honner Jose, Marye Jose, Sarah Read, Ann Wallish,
      Sarah Wallish, Joane Mathew, Elizabet Thomas.

Ref. Cornwall Records Office SF 84 page 181.

4 Nov 1679: John Stevens of Treag to Mary Jose dau of Nicholas Jose.
      Witnesses: Nicholas Jose, George Reed (Read), Richard Dinnys (Dennis),
      Will Roberts, Honour Roch, Nicholas Wallish, Jenken Vingoe, Richard Richards,
      John Williams, Ann Read, Elizabeth Jose, Honour Tregelles, Isack Chapple,
      Charles Read, John Mathews, Tobyas Read.

Ref. Cornwall Records Office SF 232. recorded in Marazion Quarterly Meeting Book.

4 July 1685: Charles Rowd to Mary Tonkin at Troofe.
      Witnesses: Jenken Vingoe and others.
3 July 1701: Robert Wallish of St.Just and Ann Edwards dau of Edward Edwards at Marazion 
      Witnesses: None shown 

Burials

Indexes to Quaker Burials 1813–37 (CFHS 1998) for the whole of Cornwall with additional material from George & Sandra Pritchard.
Index (CFHS database) 1813–37, Quarterly Meeting, reputed to contain 288 burials.
Index (CFHS database) 1816–28, Western Division (Sup), reputed to contain 3 burials. The same ones are listed for the

National Burial Index (second edition 2004) published by the Federation of Family History Societies. The dates are shown as 1816, 1821 and 1828.
Burials at Brea Burial Ground

1659: Barbara Ellis Da of John and Phyllis (aka Phillipa) Ellis.
5 Jun 1677: John Wallish of St.Just.
1677: Phyllis Ellis wife of John Ellis. [see below]
25 April 1687: Seth Vingoe son of Jenkin Vingoe of Sennen.
16 Apr 1702: Ann Wallish wife of Robert Wallish of Sancrett
1703: Mary Wallish
1703: John Ellis husband of Phillis.
26 Oct 1705: Jenkin Vingoe of Sennen
29 Feb 1708: Mary Vingoe widow of Jenkin Vingoe.
3 Mar 1714: Richard Dennis of Buryan.
11 Jan 1715: Margaret Reed wife of Tobias.
28 Jan 1716: Sampson Olivey
22 Dec 1723: Jane Dennis of Buryan
22 Sep 1724: William Bottrell of Sancreed.
31 Aug 1730: John Ellis of Penzance
16 Jan 1733: John Williams of Sennen.
26 Mar 1733: Prudence Wilish of St. Levan wife of Nicholas Wallish of St.Levan at Brea.
1 Mar 1737: Jane Richards of Sennen w[?] of Richard of Paul.

[Stone 1912] says on p.77ff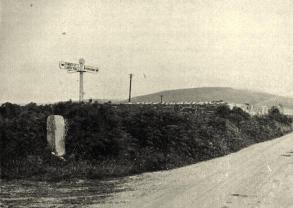 About two miles from the village of Sennen, on the road to Penzance, where the road branches off to St. Just, in the acute angle there formed [Map Ref. 376273], is a small, high walled, quadralangular enclosure, 54 feet long by 46 feet broad. No gate or opening gives access to this desolate spot, lying on the moorland in quiet, solitary peacefulness, quite apart from all houses or signs of life.
A nearer inspection of the exterior of this little enclosure reveals a slab of thick slate let into the wall, 2 feet 11 inches long by 1 foot 3 inches in depth, with this lettering incised upon it:—
"Friends' Burial Ground
—Brea
In which 36 Interments took
Place betwen the Years
1659–1789."
A close inspection of the walls shows two upright slabs of granite, on the side where the St. Just road leads off, indicating that the opening was formerly there. Now, access to the interior is by two or three jutting-out pieces of stone, forming steps up the wall, with similar pieces conducting the intruder down on the inner side of the wall.
This entirely wall-surrounded plot of land is absolutely flat, grass-grown and devoid of mound or any memorial of the dead, except at the far right-hand corner, where a solitary monument at once attracts attention. There, with its inscribed face turned upwards, mutely appealing to high Heaven alone, is this memorial of a departed Friend, who once lived in this district, sole outward and visible sign that we are treading over graves.
The inscription on the solitary stone monument inside the enclosure is becoming almost undecipherable, through exposure to the weather and decomposition of the granite. It will soon be quite illegible. The lettering is rudely chiselled in letters four and a half inches long, each word being separated from the next by a point in the middle of the line.
As far as I could make the lettering out, it is as follows, and I print it just as it is, with the quaint use of V for U, and the curious division of words at two of the corneres of the slab:—


Heare is buried that virtuous woman Phillip the wife of John Ellis who departed this life the XX day of the X month of 1677.
The solid block of granite is 5 feet 7 inches long by 2 feet 1 inch in bredth, and is 1 foot 1 inch thick, resting upon large pieces of rough granite inclined inwards.
Monumental Inscriptions
are available.
Burials at Marazion Quaker Burial Ground

5 Aug 1703: Degory Vingoe of Helston.
14 Aug 1733: Hannah Honeychurch dau. of Gregory and Amy
28 Sep 1737: Gregory Honeychurch son of Gregory and Amy.
6 Jun 1740: Amy Honeychurch wife of Gregory.
17 Sep 1775: Gregory Honeychurch aged 68.

---