On a former occasion, I had an oportunity of showing a plan of the old chapel as it was in 1674, and now (thanks to Mr. J. W. Trounson) I am able to place before you a plan of the same, dated 1824.
The seating plan of St. Mary's Chapel—1824
Mrs. Millett
Mr. William Davy
Mr. Jos. Nicholls
The Communion.
Sir Rose Price, Bart.
Corporation
Mrs. Millett
 
Rev. W. Veale
Miss Gwavas
 
Mr. Richard Moyle
Borlase's family
Aldermen
Rev. George Treweek
 
Miss Scobell
Mr. William Harvey
Mr. Fras. Cock
Pulpit
Desk
Mayor
Miss Gwavas
Mr. Thomas Pidwell
Mr. Luke
Mrs. Morgan
Little Aldermen
James Pascoe, Esq.
Mr. Thomas John
Mrs. Caroline Borlase, Abbey
Mrs. Roberts
John Jones Pearce, Esq.
Cunnack and Gluyas
Mrs. Linzee
John Jones Pearce
Mr. Orchd. Bullock
Lecturer
Geo. John, Esq.
Joan and Ann Read
Capt. Thomas Hosken
Corporation
John Batten, Esq.
Mrs. Scobell
Tremenheere family
Mr. Thomas Pascoe
Margaret Williams
Capt. John Stevens
Mr. Thomas Read
Mr. Edward Williams
Rev. C. V. Le Grice and Geo. D. John, Esq.
Mrs. Mathews
Mrs. Bains and Hichens
Mr. Robert Richards
Walter Pidwell's family
Mr. Richard Edwards
Rev. C. V. Le Grice and Rev. M. N. Peters
Aaron Scobell, Esq.
Mrs. Pearce, Gulval
Mr. R. M. Branwell and Mr. Joseph Branwell
Mr. Joseph Bullock
Alexander Woolcock
Mr. John Vigurs
Mrs. B. Branwell
John Batten, Esq. and Mr. C. M. Vibert
Mr. William Richards
Mrs. Vigurs
John Read and Vibert
Richard Cunnack
John Batten Esq.
Rev. M. N. Peters
Mr. Thomas Woodis
Rev. Uriah Tonkin
Constables
John Hambleton
Mr. John Boase
Rev. M. N. Peters
Mr. John Wallis
Mr. Henry Sampson
Mr. James Broad
Mr. John Tonkin
Mrs. Morgan
Mr. John Luke and Thomas Vigurs
Mr. Peter Symons
Miss Stone
 
 
 
Servants
Font Seat
Font
Ann Stone
Michael Vibert
John Fleming
Sincock's family
Mrs. Eve
Mr. John Mathews
Servants
Servants
Servants
Servants
A gallery occupied the western end of the chapel, and extended along the north and south sides, nearly to the eastern end. Sittings were alloted in it after the manner shown in the following rough plan, which (like the foregoing) pretends only to give a general idea of the relative position of seats, without attempting exact proportion or the accuracy of detail set forth in the originals.
Mrs. Bryant
 
 
 
Mrs. Cock
Richard Oats
John Cornish
James Cobley
Ed. Hambleton and Jonathan Higgs
M. A. Davy
Rev. C. V. Le Grice
W. Stevens and Hampton
Mrs. Bryant
Rt. Stevens and Jos. Sutherland
John Batten, Esq.
James Read
Mrs. Branwell
Phillip Rowe
Free Seat
 
Free Seat
Rev. W. Tremenheere
Jane Vibert and Mrs. Davy
Organ
W. Mathews and Jon. Higgs
Sarah Trezise and Birch
School Children
Stairs
Free Seats
There are a few old Monumental tablets, and some relics of the old chapel, such as the Poor Box, dated 1612, and the small Free-stone Font.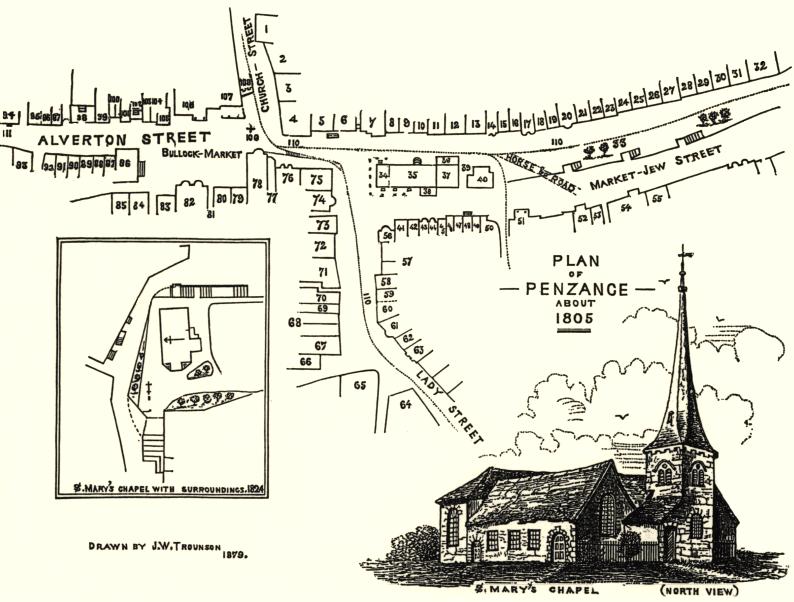 Plan of the Centre of Old Penzance
and
Names of some of the several persons who occupied houses and shops shown on the Plan, to which the numbers have reference, from about the commencement of this century to the present time. This List does not pretend to completeness or much accuracy, since alteration of premises sometimes create confusion, but it may be taken for what it is worth as an aid to memory.
[The annotation (thus) is a correlation with Coulson's Directory (1864) and other sources.]
Church Street (Causewayhead or North Street).
No. 7 "The Bunch of Grapes" Inn.
Tregida.
James, Tailor.
Pengelly, Grocer.
Heath, Draper.
Jones, ditto
Branwell, Grocer.
Branwell, ditto
Market Place
No. 28 Branwell, ditto
Symons.
Cock, Printer.
Higgs, Grocer.
No. 29 Elliott, ditto
No. 30 Rowe, Printer.
Chirgwin, Grocer.
Pengelly, ditto
John Dunkin, Ironmonger.
No. 31 James, ditto
Bodilly, Ralph.
Vibert, Grocer.
Richards, Draper.
No. 32 Field, Draper.
Clarke, ditto
Lee.
Boase, Printer.
Rodda, Butcher.
No. 33 Rowe, Shoemaker.
Smith, Fishmonger.
Mitchell, Hatter.
No. 34 "Golden Lion" Inn.
Chester, Ironmonger.
Morgan, Grocer
Lee, Grocer.
Welch, Ironmonger.
Clarke & Simpson, Clothiers.
No. 36 Ralph Bodilly, Grocer.
Clarke & Simpson, Clothiers.
Henry Sampson, Watchmaker.
Jenkin, Pork Merchant.
Runnalls.
Now taken down Carcase Market.
Carne, William, Builder and Grocer.
Coulson, Rd., China Merchant.
Flamank, Draper.
No. 37 Paddon, ditto
Harris, ditto
Polglaze, ditto
Dennis, Ironmonger.
Moyle, ditto
No. 38 Lanyon, Ironmonger.
Cock, Chemist.
Knight, ditto
John Rogers, Tailor (Mercer).
Scantlebury, Plumber.
Renfree, Shoemaker.
Viner, Musician.
No. 39 Heynes, Grocer.
Reynolds, Pork Merchant.
Badcock, Grocer.
Organ, Saddler and Flour Merchant.
No. 40 Murphy, Serpentine Worker.
Hornblower.
Webb, Currier.
Reynolds, Shoemaker.
No 41 Coombe, Draper.
Nicholls, Grocer.
Market Jew Street (north side)
Solomon Cock ,Mason.
Symons, Rabbi.
Baynard, Draper.
Walters.
No 1 & 2 Glasson.
Eva. | Fleming, Cabinet Maker & Upholsterer.
Cocking.
Corin, Hatter.
Eva, China Merchant.
No. 3 Oppenheim, Furniture Broker.
House where Sir. Humphry Davy was said to have been born (one theory)
Allen, Confectioner.
Oppenheim, Furniture Broker.
Thomas, Printer.
No. 5 Joseph, Pawnbroker.
Cummings, Shoemaker.
Rodd. ditto
No. 6 Pearce, Hairdresser.
Brown, Currier.
Hugo.
Rossiter, Watchmaker.
No. 7 Perrow, Tailor.
Henry Penneck, Dr. (surgeon)
Hocking.
Thomas.
No. 8 Boynes.
Oppenheim.
Arthur, Watchmaker.
Harris, Surgeon.
Cook, Tailor.
Gann.
No. 9 Bolitho's Bank.
Quick.
No. 10 Blee, Chemist.
Davy, Miss Kitty (sister of Sir Humphry).
No. 11 Harvey, Chemist.
Davy.
Penzance Dispensary (From 1809. Moved in 1813 to Chapel Street).
No. 12 Dodge, Surgeon.
Bennett, ditto
The old Alms-house (built 1660 by Francis Buller. Poor house until 1826).
No. 13 Runnalls. | Kinsman, Second-hand books.
Two Ash Trees, which, being cut down, were the subject of a law suit with the Penzance Corporation, in 1805.
The Guild-hall.
Market House.
Pork Market.
Coinage Hall.
"The Bird's Cage." A tall narrow shop
Courtyard.
Tonkin, Dr. Jn.
Holloway.
Rowe, Edwd.
Thomas, M.
Edmonds.
Eva, Painter & Earthenware dealer.
Fell in hand to the Penzance Corporation at the death of Sir. H. Davy in 1829.
Market Place
Broad, Draper.
No. 9 Michell, ditto
"King's Arms" Inn.
Lutey.
Downing.
Broad, Thos., jun.
No. 8 Hawkey, Ironmonger.
Chirgwin, Grocer.
Harvey, Wm., Grocer.
Hawke.
No. 7 Chirgwin, Grocer.
Hosking, Draper.
Broad, T., jun., Draper.
Hawke, Baker.
Rodda, Printer.
Berryman, Nich., Grocer.
No. 4 Tregarthen.
&
Hart.
Carne's Bank.
Broad, Thos.
No. 3 Vibert, Jeweller.
Trounson, ditto
Joseph, Pawnbroker.
Vibert, F., Printer.
No. 2 Cornish, Wm., Printer
James, Frank, Ironmonger.
Cockram, Chemist.
Hocking, Draper.
Lavars, ditto
No. 1 Symons, Chemist.
Market-Jew Street (south side) No. 119 "Star" Inn.
No. 114 "Ship and Castle" Inn.
No. 112 Davy, Wm., Grocer
John[?] Scobell, Collector of Customs.
Davy.
Beauchamp.
"Prince of Wales" Inn.
Market Place
Symons, Old Clothier, &c.
Coulson, Grocer.
Sharland, ditto
Treleavan, Hatter.
No. 10 Victor, Draper.
Cobley.
Coulson.
No. 11 Norton, Ironmonger.
Victor, Draper.
Stewart, Tinman.
Bunny.
No. 12 Benson.
Bassett, Tobacconist.
Coulson, Watchmaker.
Coulson, Draper.
No. 13 & 14 Clark, ditto
Olver and Symons, Drapers.
Lady (Chapel) Street
Coulson, Draper.
Clark, ditto
Olver and Symons, Drapers.
Coulson, Grocer.
Hawke, Confectioner.
Hamlyn, Gilder.
Uren, ditto
Bassett, Shoemaker.
Bastian, Grocer.
Vigurs, Thos., Printer.
Harris, Jeweller.
Pascoe, ditto
Roberts, Humph., Constable and Barber.
Honnychurch, Grocer and Barber.
Saundry, Butcher.
Phillpotts, Confectioner.
Hampton, ditto
Faull, ditto
Brighton, Butcher.
Market Place (Queen's Square)
"Globe" Inn.
Clancey, Confectioner, Baby Linen, &c.
QS Edmonds, Painter.
Kinsman, ditto
Treweeke, Mrs.
Stevens, Capt.
Molyneux, Draper.
No. 15 & 16 Prockter, Chemist.
No. 18 Cock, Hatter, &c.
Carne's Bank Batten, Carne & Oxnam until 1810.
Lavars, Flour Dealer.
Marshall, ditto
Gill, Baker.
No. 19 Boaden, Draper.
Paul, ditto
Sharland, Tailor.
No. 20 Eastaway, Shoemaker.
Wolf, Lemon, Spirit Merchant (other sources say ref: 69).
Joseph, Pawnbroker.
No. 21 Beare, Printer.
Harvey, Chemist and Grocer Est. 1772.
Pentreath, Grocer.
No. 22 Edmonds, ditto
Veale.
Comyn's (Cummings or Common's) Hotel.
Harvey, Watchmaker.
Long, Draper. | Cornish, Chemist & Grocer.
No. 23 York, ditto
Thomas Penberthy, Tinman (Brazier).
No. 25 Small, ditto
Care, Grocer.
Harvey.
Allen, Baker.
No. 26 Tresidder, Baker.
Chudleigh.
Davy, Draper.
Martin, Grocer.
No. 27 Beringer, Jeweller.
Worth, Chemist.
Shakerley, ditto
Pidwell, Draper.
Harry, ditto
Richards, ditto
No. 27 Hewett, Tailor.
Gerry, Grocer.
Pidwell.
Stevens.
Weymouth, Hatter.
Eva, ditto
No. 27 Rossiter, Jeweller.
Bullock Market (south side)
Penberthy, Draper.
York, ditto
Davy, ditto
Green Market
"Fire Engine" Inn. (Commercial Hotel, now White Lion.)
Penberthy, Draper.
Higgs, Grocer.
Rowe, ditto
Allen, Confectioner.
Hill's Bake-house.
Mabyn.
Trembath, Ben.
Stevens, Saddler.
GM Higgs, Grocer.
Rowe, ditto
Williams, Relieving Officer.
GM Ash, Saddler.
Lloyd, Barnaby.
Polkinghorne, Flour Dealer.
Stevens, Flour Dealer.
Eady.
GM Richards.
Constable Pascoe (one-armed).
Lloyd, Barnaby, Upholsterer (formerly William Ustick, merchant).
Trembath, Ben., Circulating Library.
GM Cornish, Grocer.
Hall, ditto
Alverton Street (south side)
Bodilly, Tailor.
Stevens, Watchmaker.
Lavin, Printer.
No. 1 "Eagle" Inn.
Bodilly, Glazier.
Colliver, Hatter.
No. 2 Richards, Currier.
* Rogers, Tailor.
Curnow, Gardener.
Mathews, Shoemaker.
Shrubbery.
a) Tonkin, Tinker.
Mathews, Hairdresser.
Warren, &c.
Charles Paynter, Solicitor.
Hosking, Hosier.
Inn.
a) No. 7 Beckerleg, Baker.
No. 9 Cross, Shoemaker, &c.
No. 10 Colenso.
Noy.
a) Boase, Fras.
No. 11 Hosking, Hosier.
Bowditch, ditto
John Beard, Town Clerk (Mayor 1794 & 1799).
Gann, Tailor.
No. 12 "Swan" Inn.
Berryman, Surgeon.
Cook, Tailor.
Alverton Street (north side)
Entrance to Park-an-Vounder, the old Fair Field (outside was the ten-mile stone from Land's End).
Hill, John.
Boase, Honey.
Crocker.
Vigurs.
"The Uninhabited House."
Site of "Western" Hotel and the end of Clarence Street.
Batten, Joseph.
"Western" Hotel.
Edward Hambleton, Builder.
Broad, Painter.
Winnan, Grocer.
No. 29 Champion, ditto
No. 30 Pascoe (built 1754).
Jago.
Bromley, Saddler.
Tregidja, Eating House.
Wallace, ditto
Eady, ditto
Penrose, Butcher.
Shoulder of Mutton Inn
Green Market (Bromley's Square)
Eva, China Merchant.
GM Carter, Confectioner.
Hobley, ditto
† Bromley, Grocer.
Hobley, Licensed Victualler
Harvey, ditto
Green Market
"Shoulder of Mutton" Inn.
Bromley, Grocer.
GM Dennis, Draper.
Polsue, ditto
GM "Three Tuns" Inn.
Cornish, Printer.
Mollard, Dressmaker.
Jarvis, China Merchant.
Stevens, Pawnbroker.
Polkinghorne, ditto
GM Richards, ditto
Powne and Blight, Drapers.
Jones, Draper.
Lavin, ditto
The Town Shoot.
The Market Cross.
Water-courses.
Tenth Mile-stone from the Land's End.
* A house was taken down here for the sake of the view to the house opposite, but almost all of this side of the street has been so altered and rebuilt that the account must be more or less confused.
† When the corner house was rebuilt, this was for a time the "Shoulder of Mutton" Inn.