St. Ives Grammar School
St. Ives Grammar School was founded under a charter of Charles I. in 1638, and was held in a house still standing on Barnoon Hill. The last master was appointed in 1673 and received £10 a year. [CEC 1927]
Daniell's Endowed School, Madron
In 1710 George Daniell's school (sometimes Daniel's) was founded at Madron. His trustees had to finish the building and arrange for the pupils to "learn to read and write properly and understand and practice Arithmetic (so as to fit them for any ordinary trade or employment, and to keep a shop book)." and receive religious instruction. £16 a year had to be paid to the Master to teach 32 poor children, £4 a year for dinners for the poorest, £7 for school supplies, £2 for children's boots, and £1 for trustees expenses. If the income realised less than £30 a year an abatement was to be made from the Master's salary, which was expected also to provide for keeping the building in repair. Under a further proviso, if the testator's nephew wished to become the schoolmaster the trustees were to allow him to do so and he should share the existing master's salary for three years, after which he should be paid the full sum. [CEC 1927]
This was still in existance, as a Voluntary School, in 1937. [CEC 1937]
Buller Charity School, Penzance
Five [further to Morval 1716] Buller Charity schools were set up at West Looe, Liskeard, Saltash, Grampound and Penzance, £20 being alloted to each school, £15 of which went to the master and the remainder being for the Trustees' expenses (dinners, etc.). [CEC 1927]
Charity Schools at Penzance, St. Buryan and Ludgvan
In 1722 Francis Bassett, of Tehidy, left £5 to each of the parishes of Illogan, Redruth and Camborne, to provide Charity schools. Similar schools were opened at … Penzance, St. Buryan with 20 children. Teachers' salaries then varied from £10 to £21 per year. Four years later schools were established at … Ludgvan. [CEC 1927]
Penzance Grammar School
Penzance Grammar School is first mentioned in the Borough Records of 1728, when £50 a year and the use of a schoolroom were given to the Master on condition that the Corporation should nominate two free schoars. In 1789 George Coryton was Master, and a pupil of his was Sir Humphry Davy, who afterwards bequeathed £100 to the school on condition that the boys had a holiday on each aniversary of his death. The last Master was the Rev. Trimer Bennett, who closed the school and opened a private school, which he also closed on becomming Vicar of St. Levan. [CEC 1927]
In 1833 there were 16 boys [Penny Cyclopedia 1840]
National and British Schools
On the 23rd December, 1811, it was decided at Truro to form the "Society for promoting the education of the children of the poor in the County of Cornwall (upon Dr. Bell's system), in the principles of the Christian religion, as taught by the Established Church."
A general Committee was apointed to work out the detailed scheme under the Chairmanship of Lord de Dunstanville. A month later the Committee was authorised to secure buildings to start a Central School in Fairmantle Street, Truro, and a subscription list was opened. By April 9th, 1812, the progress had been such that they were authorised to meet at Truro Town Hall on April 23rd to "admit children to the school." A Mistress was appointed to teach the first four rules in arithmetic, writing, reading, sewing and knitting, her renumeration being £25 a year and a house free of rent and taxes. In Spetember 1813, the Committee's report showed that 165 boys and 76 girls had been admitted to the school "to participate in the blessings of an education which had so liberally provided." Masters had received instruction from schools at Gulval … Money had also been spent in assisting these schools to buy books, as well as boarding the masters whilst under training.
The training side was the first beginnings for the Truro Training College, which shortly afterwards was set up in Agar Road, Truro. It was not long before Nonconformists opened a school at Truro in "Back Lane," where Lancaster's system was adopted, but before many years Bell's Schools were absorbed in the National Society and Lancaster's in the British and Foreign School Society, and such schools spread all over Cornwall to be followed by the Wesleyan Day Schools. [CEC 1927]
The National School in Ludgvan was built in 1835. Prior to that an old Abcee school was held in the belfry at the base of the church tower. A minute was rrecorded in 1812 to install a stove in there for the benefit of the school room. This may have been the charity school mentioned above.
Dame Schools
Grace Lucille Boase (1809-1889) went to Penzance with her parents in 1811 and was educated, at Miss Penny's, Miss Barnwell's, Miss Stone's, and Miss John and Scott's schools, Penzance. She writes "Miss Stone kept her school in the centre, and the one at the end [of Market Jew Street] belonged to the Daubuz family, who I think lived in Truro, but were often in Penzance … Lydia had been put to Miss Stone's school as a boarder, Maria and Anne had been left in London at the Misses Babingtons school … My first schoolmistress was a Miss Penny who lived with an old father in one of the small houses which were pulled down to make an entrance to Mr. Robert Richards' house, she was a very prim old lady who had been governess in her earlier days in some Bishop's family on which she greatly prided herself, and loved to talk of their grandeur and glory. My next school was kept by two Miss Branwells, I think they must have been sisters of Charlotte Bronte's mother, they lived in a small house on the South Parade where the Public [Morrab] Library was afterwards built.
"The schoolroom had a sanded floor, was half underground as the bottom of the window was level with the street, so we saw everybody that was passing, which was our only entertainment; we must have been all very small children, George used to be carried to and fro, we were arranged on low wooden forms about a foot high. Miss Mary Branwell attended to the household affairs in the kitchen which was the other side of the passage, and Miss Peggy sat in the corner of the schoolroom with a long cane by her side with which she gave gentle pats and pokings to those who were misbehaving; here we sat from 9 till 12, I forget whether we went in the afternoon, there I suppose we learnt to read or at least our letters. After my sister Maria left school she used to teach us, until Lydia went to Miss Babington's for three years, never coming home the whole time, and at 8 years old I went as a boarder to Miss Stone's." [Grace Lucilla Thomson, Boase & Courtney 1874]
In 1833, within the chapelry of St. Mary Penzance, there was an "infant schol with 26 boys and 17 girls; a school of industry with 75 girls; a Jews' school with 10 children; and thirty eight other day-schools, with 1,014 children of both sexes." In St. Ives there were "twelve infant or dame schools, with 145 males and 169 females and seven other day-schools, with 147 males and 110 females." It is hard to positivly identify any of these. [Penny Cyclopedia 1840/41]
Mount's Bay Academy, later Penzance Collegiate School
Founded in 1854 by T. Gordon Teague, succeeded as headmaster by his son A. Henwood Teague in 1891. It amalgamated with the Clarence High School to become Penzance Collegiate School located in 53 Chapel Street.
Penzance Church of England High School (later St. Clare, now Bolitho)
The Penzance Church of England High School (for girls) used 33 Morrab Road for one term at the end of 1889 and moved to Clarence House in January 1890, rented from the Bolitho family. The first headmistress was Miss Hare and there were boarding houses in various parts of the town such as Alexandra Road, Clarence Street and finally Penalverne House. In 1894 they purchased an Iron Room, used as a hall, at a cost of £145-6-0. This stood in what is now the playground. When they moved to Polwithen in 1918 (also a Bolitho family house and opened on the 7th. of June by the Bishop of Truro), they took the Iron Room with them and it was still in use as a gym in 1972. Later [c1937?] the school was taken over by the Woodard Corporation and renamed The School of St. Clare. [Carr 1972]
When the school became co-educational it was renamed The Bolitho School which was affiliated to, but independent of, the Woodard Foundation. It closed in 2017
Leusden Boy's School, Lescudjack Road
This was opened in 1895 by the directors of the Penzance Church of England High School but only lasted two years. [Carr 1972]
Penalverne House, Penzance
A mixed school for boys and girls was run by Miss Hare and her sisters, distinct from the boarders for the High School, until it closed in 1918. [Carr 1972]
Penzance Elementary Schools
For some reason, Penzance (and Falmouth) were autonomous from the Cornwall Education Committee regarding the provision of elementary schools for the purposes of the 1902 Education Act. This was still the case in 1937. [CEC 1927 & 1937]
In around 1900, St. John's Church of England National School, Penzance had Mr Maurice Harvey, A.C.P as headmaster [ref: a correspondent who has an printed exercise book.]
West Cornwall College, Penzance
This was a Methodist foundation in 1883 which achieved notable academic success. In 1897 the headmistress was Miss C. A. Hall. At the time of the 1902 Education Act, this and the High School (both for Girls) were the only Secondary schools in Penzance. Closed in 1967.
Pupil Teacher's Centre
At Mennaye Road. Headmaster Mr. Richardson. Closed and contributed pupils to the new Boys' Grammar School in 1910. [Batten & James 1980]
Abbey School
Headmaster Mr. Thorne. Closed and contributed pupils to the new Boy's Grammar School in 1910. [Batten & James 1980]
Commercial School
Closed and contributed pupils to the new Boys' Grammar School in 1910. [Batten & James 1980]
St. Erbyn's, Penzance
After the Penzance Church of England High School moved out of Clarence House in 1918, Miss B. M. Steadman opened a mixed Junior School there which opened in September. She named the school St. Erbyn having been assured by Mr. Jenner that he was a true Cornish saint. She also designed the brown uniform and the star badge. Among the staff were Miss E. M. Trezise (Trizzy) who was born in Pendeen and educated at the High School, and Miss Dorothy Hoare. The school grew until, by 1926, it had become a Boys Preparatory School with a dozen boarders and forty day boys. This became too much for the headmistress and she sold it to Reginald Frederick d'Argaville (Rex) Carr in 1927 who remained headmaster until 1970. Although born in Ireland of Irish parents, he lived almost all his life in Cornwall. His father was curate at St. Austell and worked at Redruth, Kea, Penryn and finally at St. Mary's, Penzance. In 1932 he bought the freehold from Edward Bolitho and that inluded a games field. Soon after the school expanded to include No. 1 Clarence Place to accomodate the growing numbers and this allowed the out boarders to all be accomodated within the school. Girls were readmitted to the school in 1935 when Rex's daughter Bridget joined.
At the start of the war in 1939 many new boarders arrived, evacuated from schools in the South East, but it soon became apparent that the prominent building was an ideal target and, though it was never hit, the new boarders were soon moved out again. By the summer of 1941, the boarding side was closed down. Within a few years of the end of the war, numbers were up to double the pre-war figures, but now with day pupils only. Mike Jenkin joined in the late 1950's, became a junior partner in 1962 and took over as headmaster in 1970 when Rex retired. [Carr 1972]
Elementary schools in 1937
In 1937 there were elementary schools in:—
COUNCIL
Accom.
Roll
Head
Ludgvan: Churchtown
158
126
Mr. R. G. Reed
Ludgvan: Trevarrack
216
58
Mr. A. Richards
Ludgvan: Whitecross
156
63
Mr. N. C. Richards
Madron: Trythal
118
43
Mr. L. Old
Morvah Jun. & Inf.
35
15
Mrs. C. James
St. Buryan
176
94
Mr. J. Harvey
St. Ives Boys
314
224
Mr. W. W. Bastian
St. Ives Girls
264
220
Miss. F. Drew
St. Ives Infants
257
220
Miss. M. M. Dufty
St. Ives: Island Road Inf.
149
73
Miss. K. N. Hitchens
St. Just: Cape Cornwall Sen.
145
106
Mr. R. A. Curnow
St. Just: Cape Cornwall Jun. & Inf.
238
186
Miss. E. Holman
St. Just: Carnyorth Jun. & Inf.
216
63
Mr. P. H. Williams
St. Just: Kelynack
108
29
Mrs. W. Harvey
St. Just: Pendeen Boys
112
81
Mr. W. Olds
St. Just: Pendeen Girls & Inf.
233
129
Miss. A. Hocking
St. Levan
117
75
Mr. G. A. Penna
Sancreed: Newbridge
87
35
Miss. B. Thomas
Sennen
155
80
Mr. A. West
Towednack: Nancledra
98
65
Mr. F. Pope
VOLUNTARY
Madron: Daniel's Endowed
205
93
Mr. J. W. Reed
St. Ives: Lelant
135
31
Miss. H. Harper
St. Ives: St. John's Jun. & Inf.
60
32
Miss. B. C. Mitchell
Sancreed
114
38
Miss. D. W. Bailey
It strikes me that there was rather an excess of capacity over requirements but this was no doubt appreciated as standards of education improved. The local representatives on the Education Committee were J. T. Angwin, 1 Lafrowda Villas, St. Just; Lt-Col. E. H. W. Bolitho, Trengwainton, Hea Moor; W. G. Goodfellow, The Firs, Penzance; W. R. Hollow, 14 The Terrace, St. Ives; C. Tregenza, Tavis Vor, The Parade, Mousehole and Mrs. K. L. Arnold-Forster, Eagle's Nest, Zennor. [CEC 1937]
St. Ives Junior School(s)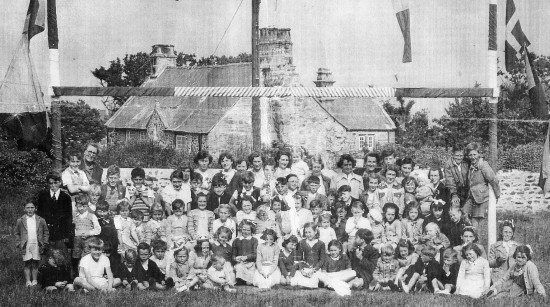 This is St. Ives Junior School, Ayr, in about 1950 sent to me by one of the pupils. Unfortunately the photo was torn but I have done my best to splice it together and clean it up.
Lescudjack School
This was [?] the "Modern" School opened as a consequence of the 1944 Education Act. It closed as a separate school in 1980 to become part of the new Humphry Davy School.
Humphry Davy School, Penzance


Humphry Davy School is a mixed comprehensive secondary formed by the merger of the Boys' and Girls' Grammar Schools and Lescudjack School in 1980. The sixth-form was separated off and became Penwith Sixth Form College. Some of the history can be found in [Batten & James 1980]
Penwith Sixth Form College
This was formed out of the Sixth Forms of the Boys' and Girls' Grammar Schools.
Mounts Bay School
A mixed comprehensive school, but I know nothing of its history.
Devonport High School for Boys
In 1939 [1941?],

Devonport High School for Boys was evacuated to Penzance, for a short time sharing premises with Penzance Girls' Grammar School. It returned to its old location in 1945.
Hollington Park Girls' Grammar School
Evacuated from St. Leonards on Sea, Sussex to St. Ives in W. W. II. [Tranter 1980]
West Wing School
Evacuated from the Isle of Wight during World War II and transferred to Somerset when it was over. Some pupils and one teacher (Miss Gwyneth White of Madron) stayed behind and joined St. Erbyn's. [Carr 1972]
Downs School
Evacuated from the Seaford, Sussex from 1941–45 and located in Treloyhan manor, St. Ives, once the home of Sir Edward Hain and a hotel from 1930.