Some records of the manors and mines shown on the detailed map are available for study.
---
Statistics
In 1817 its boundaries enclosed 6,274 acres, 217 houses and 1,188 inhabitants. A trust school had been recently founded for the teaching of 7 poor boys [Heard 1817]. With the current boundaries the area is now 6,972 acres plus 3 acres of water and 18 of foreshore [

GENUKI 1997]. Its population grew in the middle of the C19th in common with many western parishes due to the mining but subsequently fell away again.
Year
Population
Year
Population
Year
Population
1801
1,161
1901
1,210
1811
1,188
1911
1,236
1821
1,495
1921
1,132
1831
1,707
1931
1,145
1841
1,911
1992
1,425
1851
1,658
1951
1,072
1993
1,435
1861
1,428
1961
977
1994
1,470
1871
1,437
1971
971
1995
1,445
1881
1,364
1981
1,185 (1,000)
1996
1,425
1891
1,288
1991
1,400 (1,152 or 1,170)
1997
1,395
1998
1,415
The later figures were obtained from from the

Country Socio-Economic Statistics as the sum of Buryas Bridge & Kerris, Lamorna and St. Buryan sub-parishes.
---
Online Parish Clerk
A new (Jan 2001) initiative that has started in Cornwall is the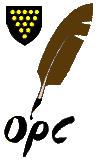 Online Parish Clerk. One person is encouraged from the CORNISH-L or CORNISH-GEN-L mailing list to be the custodian of historical records, including transcripts of registers, for each parish and will supply extracts to researchers as they need them. This person may be geographically distant from the parish, but their heart will be there. Parish information
---
Links

The Great Bells of St. Buryan.

SOSKernow (friends of Cornwall) have a

detailed history of St. Buryan church together with some information about the saint herself and Glasney collegiate church.

Historical Notes of Lamorna and Morsylla is a page on a holiday let site but has a wealth of detail about Lamorna in the past. There are also a couple of other general interest pages.
See also the general West Penwith Links.
---
Domesday


Domesday Book, folio 121b, chapter 4, paragraph 27 [James 1861].
Translation—The canons of St. Buryan hold EGLOSBERRIE; it was free in the time of King Edward [before 1066]. 1 hide [120 acres]. Land for 8 ploughs [requiring, perhaps, 8 oxen each]; ½ plough there. 6 villagers and 6 smallholders. Pasture, 20 acres. Value 10s; when the Count [of Mortain] received the land, value 40s. Exon Domesday adds that there were "12 cattle; 12 sheep". [Thorn 1979].
St. Buryan (or Burian) is recorded in the Domesday book as Eglosburrie, which in old Cornish means the church of St. Burian. King Athelstan is said to have endowed this church in honour of St. Buriana, a holy woman who came from Ireland. He did this as a mark of thanks having completed the conquest of Cornwall by taking the Isles of Scilly [Stone 1912]. This charter established St. Buryan as one of the earliest monasteries in Cornwall. The current church building is somewhat later and was dedicated to the saint in 1238 by Bishop William Briwere [Olson 1989].
There is also speculation (by Polsue) that the manor of Trevidor is mentioned in Domesday—that is in Folio 120a, Chapter 1, Paragraph 1—the holdings of the King "Wulfward holds TREVEDOR?. 1 virgate of land". [Thorn 1979] puts this manor in St. Martin in Meneage parish but it is possible that it had scattered holdings even this early.
---
Deanery of St. Buryan
From 1300 the Crown claimed the right to appoint the Dean of St Buryan and insisted that the Dean did not answer to the bishop—in other words that the Deanery was a Royal Peculiar. The Bishop disputed this, but lost the case, and for the following five centuries and more the Deanery was technically outside the control of Exeter, the Duke of Cornwall usually making the appointment. Presumably some kind of working agreement had been arrived at when for about fifty years after the Restoration the Dean was always also the Bishop of Exeter (i.e. from 1663 to 1716). Only one Dean, John de Maunte around 1318, is ever known to have spent time in St Buryan. The Royal Peculiar and Deanery of St Buryan survived until 1864, when it was abolished under an act of 1850 on the death of the last Dean, Fitzroy Stanhope. He was only the last of a long line of non-resident Deans, though he was remarkable both for his pluralism (he was also Vicar of Wressle and Rector of Catton, neither of which he visited either), and for his apparently total neglect of any ecclesiastical duties whatsoever. It is a sad fact that the Deans served St Buryan, St Levan and Sennen so badly that there are very few church documents surviving from the long era of their control; those that there are seem to owe their existence to the churchwardens. In particular there are no Bishop's Transcripts of the parish registers and it had its own ecclesiastical courts for probate etc. [thanks to Susan Hoyle for this summary.]
---
Seal of St. Buryan and Lamorna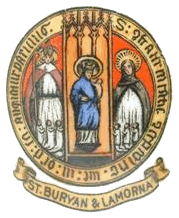 The mystery has been solved thanks to Sandra Pritchard.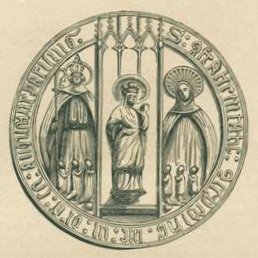 This is what [Blight 1856] says about it.
This beautiful Seal, in perfect preservation, and probably of the 14th century, was dug up in the parish of St. Burian. How it found its way into Cornwall would be difficult to say, but it is pretty certain that it was only by accident, as the inscription on it, which reads—"Sigillum Confraternitatis Conceptionis Beatæ Mariæ Ordinis Sancti Augustini Parisias," shows that the seal has no connection with our local history. It may possibly have been lost by some member of the Confraternity whilst visiting the Brethren of his Order at Burian, but who do not appear to have had attached to them any Confraternity of the Conception.

The Seal is the property of J. J. A. Boase, Esq.
---
Topographical Dictionary of England—1831
The following is from [Lewis 1831] and must be read in the context of that date.
BURIAN (ST.), a parish in the hundred of Penwith county of Cornwall, 4¾ miles (S.W. by W.) from Penzance, containing 1495 inhabitants. The living is a rectory, and a royal peculiar, rated in the king's books at £48. 12. 1., and in the patronage of the Crown. The church, which stands on an eminence, and serves as a land-mark to mariners, is a spacious edifice, containing some interesting monuments: it had a handsome carved carved screen and other relics of antiquity, but these were removed on its reparation in 1814: there is a small ancient cross near the south porch. St. Burian is a place of considerable antiquity, having been noted for a collegiate church founded by King Athelstan, in honour of St. Buriena, or Beriena, who had an oratory and was interred here, and on which he bestowed the privilege of sanctuary and other immunities: in the 20th of Edward I. the society consisted of a dean and three prebendaries. This establishment constituted the basis of the present independent deanery, which comprises within its jurisdiction the parishes of St. Burian, St. Leven, and Sennan [sic.]: it was for a long time annexed to the bishoprick of Exeter, but was severed from it during the episcopacy of Bishop Harris, who thus became the first independent dean: every vestige of the collegiate buildings has disappeared. There is a charity school under the direction of trustees, who allow the master eight guineas a year, and a residence rent free.